Dragon Fruit
Dragon fruit is the fruit of several cactus species indigenous to the Americas. While the fruit is commonly known in English as dragon fruit, reflecting its vernacular Asian names; it also goes by the name pitaya or pitahaya. The names "pitahaya" & "pitaya" comes from Mexico, & "pitaya roja" in Central America & northern
HEALTHY & FUN FRUITY FACTS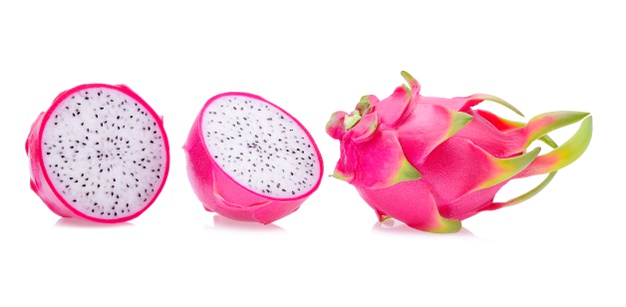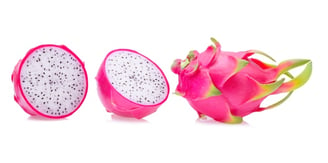 Dragon fruit is the fruit of several cactus species indigenous to the Americas. While the fruit is commonly known in English as dragon fruit, reflecting its vernacular Asian names; it also goes by the name pitaya or pitahaya.

The names "pitahaya" & "pitaya" come from Mexico, & "pitaya roja" in Central America & northern South America, possibly relating to pitahaya for names of tall cacti species with flowering fruit.

Pitahaya producing cacti of the genus Hlyocereus are originally native to Mexico. They were transplanted to Central America, probably by Europeans.

Dragon fruit is cultivated in Southeast Asia, the United States, Israel, Australia, Cyprus & the Canary Islands. Vietnam is its top producer.

Sweet dragon fruit comes from the genus Hylocereus, of the Cactaceae family, while sour dragon fruit is from the Stenocerus genus.

French missionaries were the first to export the fruit from central America to southeast Asia, where it was called dragon fruit. This name is supposed to derive from a legend, according to which, the fruit was the last breath exhaled by a dragon defeated in battle.

Dragon fruit grows on a climbing cactus plant that can grow from 15-20 feet high & can live for as long as two decades.

The flower buds of the fruit are edible when cooked.

The skin of the dragon fruit is usually pink, red, or yellow in color, with spiky leaf-like appendages generally tipped with green, & a red or white-colored flesh that has many small, rgb(0, 0, 0), edible seeds.

Dragon fruit has a mild flavor & is often compared to passionfruit, watermelon, raspberries & other fruit, depending on the species, & are usually sweet.

The large dragon fruit flowers require pollination during the night as they generally whither in the day & only last up to 24 hours, after which the fruit develops & is ready for picking from 30 to 50 days. Mature fruits that are not harvested will continue to grow larger but not sweeter. During the night, the dragon fruit flowers are pollinated by moths & bats. August & September are their peak months.

Dragon fruit seeds also contribute to its nutritional benefit. They contain protein as well as omega-3 & omega-6 fatty acids that can help prevent cardiovascular diseases. The seeds also have a mild laxative effect.

Dragon fruit is low in calories but rich in vitamins, minerals & beneficial plant compounds such as polyphenols, carotenoids & betacyanins.

One-cup serving (227 grams):

Calories: 136

Protein: 3 grams

Fat: 0 grams

Carbohydrates: 29 grams

Fiber: 7 grams

Iron: 8% of the RDI

Magnesium: 18% of the RDI

Vitamin C: 9% of the RDI

Vitamin E: 4% of the RDI

Dragon fruit contains the antioxidants vitamin C, beta-carotene, lycopene & betalain. Studies have linked diets high in antioxidants to a reduced risk of chronic disease.

Dragon fruit offers 7 grams of fiber per serving, making it an excellent choice for meeting your daily fiber needs.

Dragon fruit may promote the growth of healthy bacteria in the gut, which is associated with a healthy gastrointestinal tract.

Dragon fruit's high supply of vitamin C & carotenoids may offer immune-boosting properties.

Dragon fruit supplies iron along with vitamin C, a combination that may improve your body's absorption of this important mineral.

Dragon fruit is a great source of magnesium, a nutrient needed for over 600 biochemical reactions in your body.

Look for one that is bright red. Some spots are normal, but too many bruise-like splotches can indicate that it's overripe. Like avocado & kiwi, a ripe dragon fruit should be soft but not mushy.

Commonly, dragon fruit is eaten fresh or as is accompanied with ice cream or other desserts. It can also be frozen or used in drinks, jams & jelly. To enjoy, add it to salads, smoothies & yogurt, or simply snack on it by itself.