Chocolate Part 5 of 6
105. Spanish royalty gave cakes of cacao in their dowries. 106. On December 6th during the feast of St. Nicholas, children in Holland put their clogs outside at night so Santa can fill them with chocolate money. 107. July 7th is National Chocolate Day in the UK, the day marks when chocolate was first brought to Europe on
HEALTHY & FUN FRUITY FACTS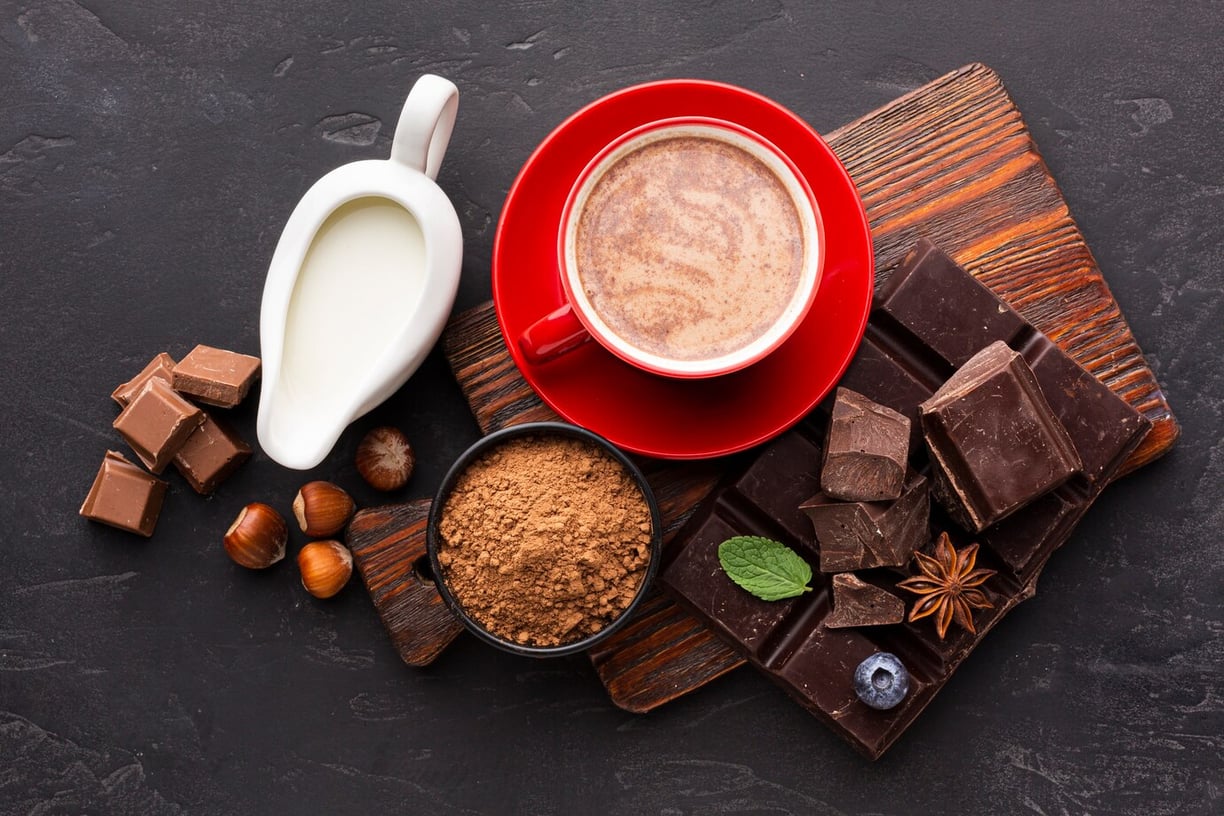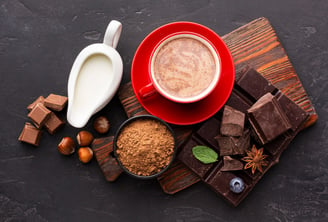 105. Spanish royalty gave cakes of cacao in their dowries.
106. On December 6th during the feast of St. Nicholas, children in Holland put their clogs outside at night so Santa can fill them with chocolate money.
107. July 7th is National Chocolate Day in the UK, the day marks when chocolate was first brought to Europe on July 7, 1550. Some credit Christopher Columbus with this feat in 1504.
108. International Chocolate Day is celebrated on September 13th, and some celebrate National Bittersweet Chocolate with Almonds Day on November 7th.
109. In November, Germans celebrate St. Martin (a knight who shared his cloak with a beggar) with a lantern-lit parade, sweets, and steaming hot chocolate.
110. German chocolate cake was named for Sam German, who developed a sweet bar for Baker's Chocolate–and was not from Germany.
111. April Fool's Day in France is called "Poisson d'Avril." The word "poisson" in French translates to fish, so children enjoy a piece of fish-shaped chocolate on this day while playing pranks on one another.
112. According to the artisan chocolatiers at Amano, the process of making chocolate from cocoa beans takes about a week. Larger companies like Hershey's can make a chocolate bar in two to four days due to their larger chocolate-producing machines.
113. Chocolate contains two doses of cocoa butter—the natural amount from the bean, plus an extra dollop to bump up creaminess.
114. Cacao percentage determines the amount of cocoa bean products by weight in a chocolate.
115. "Cacao" is how you say "cocoa" in Spanish.
116. Champagne and sparkling wines are too acidic to pair well with milk or dark chocolate. Try pairing a sweet bubbly with white chocolate and red wine with dark. In general, you want to match the sweetness level of the wine with the sweetness level of the chocolate.
117. Some cocoa certification programs are modeled on success with a similar product–coffee.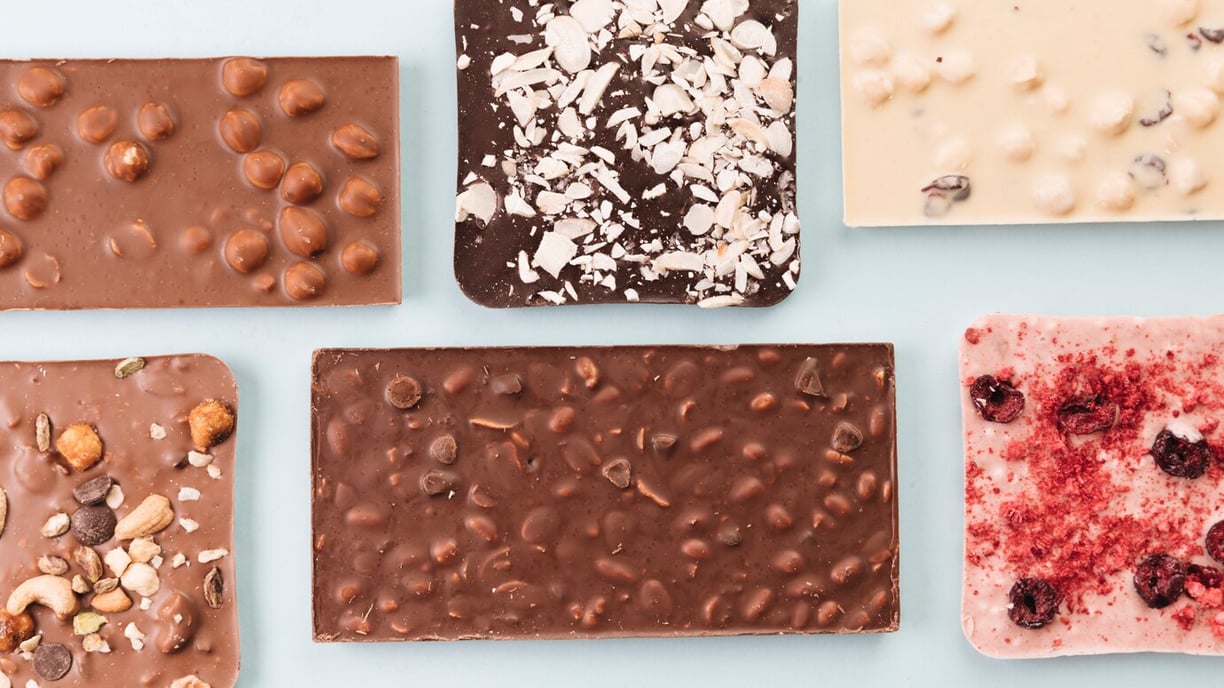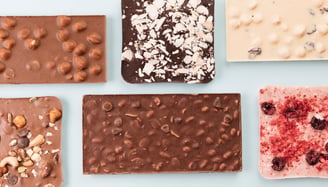 118. Chocolate can make dogs and cats ill–meaning no tastings for your furry friend, and more for you.
119. According to the BBC, research found that chocolate can actually stimulate your brain and releases more endorphins in the brain than kissing does. It was also shown to increase your heart rate faster than kissing as well. Researchers believe that this is caused by chocolate's concentration of phenylethylamine, a compound that increases endorphin production in the brain.
120. The man who created the Reese's Peanut Butter Cup was a farmer, by the name of Harry Burnett Reese, who was a former shipping foreman and dairy farmer for Milton S. Hershey, the founder of Hershey's chocolate.
121. Terry's produce over 350 million chocolate orange segments per year. 5 tons of chocolate is enough to make 28,000 Terry's Chocolate Oranges.
122. America's favorite chocolate brand produces millions of those bite-sized chocolates we all love daily. They are all made by machine at Hershey's factory in Hershey, Pennsylvania. It actually got its name from the sound that the chocolate makes when coming out of a machine during the manufacturing process.
123. Cadbury Creme Eggs are one of the most popular chocolate candies in the world. According to the Cadbury website, the chocolate company produces up to 1.5 million of their famous creme eggs daily, and over 500 million made per year.
124. Three Musketeers bars used to have three individually flavored bars: chocolate, vanilla, and strawberry. But they decided to drop the strawberry one when prices began to rise for the fruit and eventually turned into one large chocolate bar.
125. Andes Candies were originally called 'Andy's Candys.' The creator of the now-famous chocolate, Andrew Kanelos, was going to name them after himself originally, but changed it for a funny reason: he realized that men did not like giving their wives and girlfriends boxes of candies with another man's name on them, according to the book Chicago's Sweet Candy History by Leslie Goddard.
126. The most valuable chocolate bar in the world sold for $687. This Cadbury chocolate bar had a much pricier tag than usual, and for good reason. At the time of being sold in 2001, this bar of chocolate was 100 years old and went on Captain Robert Scott's first Discovery expedition to the Antarctic, according to Guinness World Records.
127. In a small study at Indiana University, cyclists who drank chocolate milk after a workout had less fatigue and scored higher on endurance tests than those who had a sports drink. A study published by Medicine and Sports Science found that chocolate milk can actually help athletes recover faster after exercise. The study noted that this could be due to the drink's high protein and carb ratio.
128. According to the BBC the survey conducted for the Infosecurity Europe trade show in London in 2004 found that 79 percent of people were willing to give out personal information that could be useful for identity thieves, such as birthdays and mother's maiden names, for chocolate. 70% of people would give their passwords for a chocolate bar.
129. According to the History Channel, the U.S. Census Bureau noted that during the week of Valentine's Day, more than 58 million pounds of chocolate are sold, and makes up a large percentage of yearly chocolate sold in the US.
130. The Brussels Airport is the biggest chocolate seller in the world. They sell about 800 tons of Belgian chocolate per year.