How to Put Together a Charcuterie Board
"Charcuterie spreads are gorgeous, delicious, and totally customizable, so it's no secret why they've stood the test of time. While "charcuterie" technically means a range of different cured meats, they can go way beyond salami and prosciutto, featuring various cheeses, crackers, spreads, and produce. The
RECIPES & IDEAS
How to Put Together a Charcuterie Board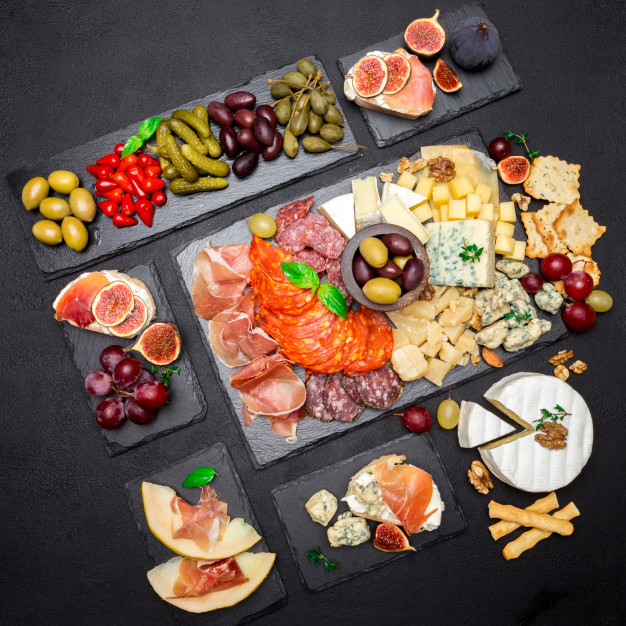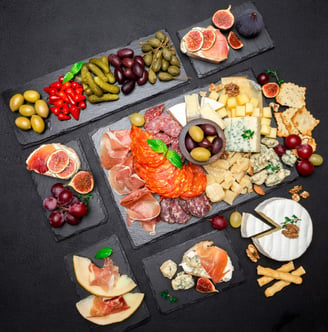 "Charcuterie spreads are gorgeous, delicious, and totally customizable, so it's no secret why they've stood the test of time. While "charcuterie" technically means a range of different cured meats, they can go way beyond salami and prosciutto, featuring various cheeses, crackers, spreads, and produce. The best part is that they don't require one second of actual cooking, but you probably know all this already. Here's what you might not know about cheese boards: They don't need to cost you an arm and a leg to put together. In fact, you can assemble a killer charcuterie board for less than $30.
Meats
Making a charcuterie board is sort of like conquering the world's tastiest puzzle. All it takes is breaking up the board's elements into categories and choosing complementary ingredients for each. Soft, easy-to-grab meats are arguably the most important. They can be rolled, fanned, laid flat, or even turned into roses, depending on how you want to organize your board. Don't forget to have tongs or toothpicks nearby for easy lifting. Deli salami or jamón Ibérico work with a wide range of cheeses, but prosciutto is no doubt a crowd favorite. If you're looking for quality, be prepared to pay a bit more per ounce for prosciutto di Parma (aka buttery, top-tier prosciutto that's made in Parma and aged twice as long). To save, buy any sliced prosciutto from a brand you trust. (P.S.: Odds are you'll find the best deals and lowest prices in person at the grocery store, not online.)
Hard meats that need to be sliced, like Spanish chorizo or a log of soppressata, should be placed by hard cheeses with the proper knives (unless you want to make it easy on your guests and slice them in advance). Again, quality is usually linked to price, but you can likely find a few links of affordable chorizo in the deli section of your local supermarket.
Cheeses
It's a lot easier to choose the cheeses once you've already chosen the meats, since they narrow down your pairing options. Think of the meat's most prominent notes and what sort of flavor profile would compliment it best. For instance, if you choose to use sweet-and-spicy salami, gouda would be a solid pairing option, since it's creamy, nutty, and smooth. If you went with buttery prosciutto, you might opt for an aged, salty cheese like Parmesan or pecorino Romano instead. Soppressata or pepperoni, which are bursting with notes of herbs and spices, would pair great with buttery, rich, fatty cheeses like cheddar or Havarti. You can also play with flavored cheeses, like those infused with wine or truffles, if they fit the rest of the spread or an overall theme.
Soft cheeses are also popular to include in charcuterie boards. They tend to pair best with fresh fruits and vegetables, dried fruits, jams, and nuts, as well as crackers and bread. Velvety soft cheeses like Brie go beautifully with sweet or acidic sides, like a honeycomb, green apple slices, onion jam, or grapes, while mild soft cheeses like fresh mozzarella pair best with fresh produce, herbs, and tangy dressings or dips, like a balsamic glaze. For salty, soft cheeses like feta or chèvre, add mild or sweet ingredients like roasted almonds or pine nuts, figs, sliced melon, or dried apricots to the board. Sweet soft cheeses, like mascarpone, shine brightest alongside berries, cherries, or chocolate.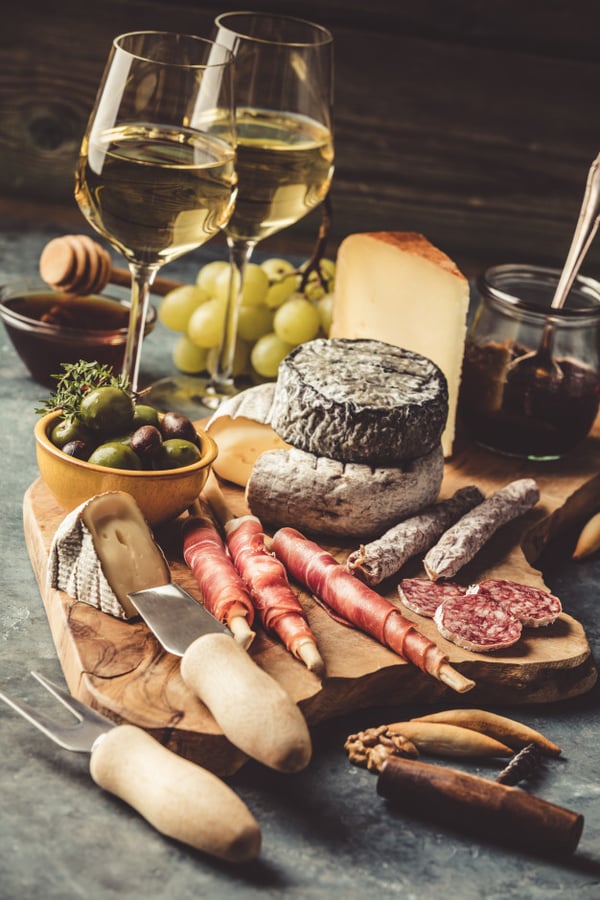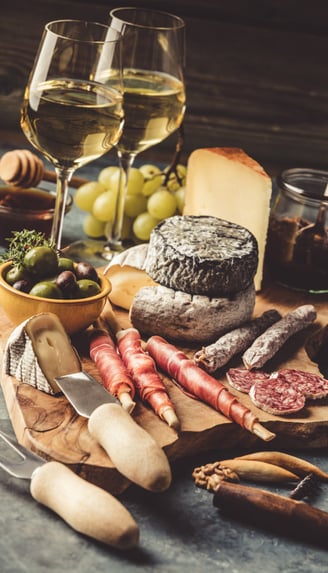 Breads and Crackers
There's really no wrong choice when it comes to bread, crackers, and carbs in general. On a charcuterie board, their main purpose is typically to be a crispy vehicle for cheese, meat, and spreads. All you really need to consider is how their flavor will pair with the cheese and meat; it shouldn't be too tough, considering bread and crackers are pretty neutral tasting. For that reason, this section of your charcuterie board doubles can be an opportunity to play with visuals. Instead of rectangular crackers, why not go for long, thin breadsticks that you can arrange vertically in a jar? If you're including cheese crackers on the board, wouldn't Goldfish be a fun twist instead of standard square crackers? Then again, you truly can't go wrong with whole wheat crackers—they taste good with everything and are a bargain buy.
As for bread, baguette slices are classic, but we also love the idea of using toasted pita, hunks of sourdough, or crostini instead. Just be sure that there's 1) a cracker or bread to pair with the hard cheese and meat, 2) a cracker or bread that can hold up to being spread with the soft cheese and other spreads, and 3) a cracker or bread that's dippable, if you have dips or fondue on the board.
Produce and Snacks
Here's the part where you can show off your vast snacking experience. From your favorite roasted nuts to that special jar of olives you've been sitting on, every crudité and munchie can find a home on a charcuterie board. Here are a few boxes to check when you're planning your selections:
Something Fresh
When it comes to the price tag, apples are an easy win. You can lean tart or sweet depending on the other ingredients, and they're super cheap compared to some other popular charcuterie fruits, like berries. Oranges or clementines are also an affordable route, as well as celery, carrots, broccoli, or radishes.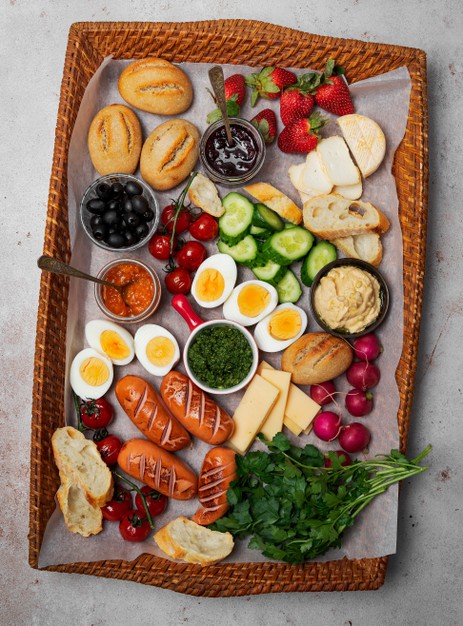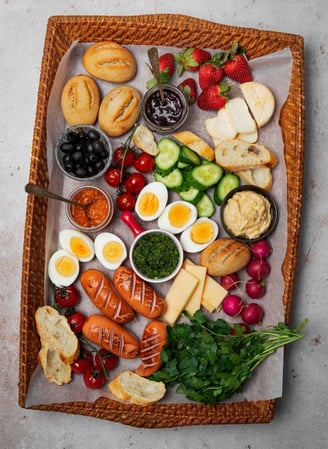 Something Briny or Acidic
There's truly no match for cheese like mouth-puckering olives, especially if your cheese selection is heavy on the salt (or includes feta). Their brininess also has the power to cut through fatty, rich cheeses like provolone or Camembert. We recommend heading to your local supermarket's olive bar so you can pick and choose exactly what you need.
That being said, we're also suckers for sweet gherkin pickles, which are super crisp, flavorful, and less polarizing than uber-vinegary sour dill pickles. French cornichons are another great pickle to consider, since they're small and aesthetically adorable.
Something Crunchy
Nuts are traditional crunchy additions; a mix is always a hit, but almonds tend to be on the cheaper side. There are also a ton of flavored nuts to explore too, like the sweet Thai chili nuts. Wasabi peas, pork rinds, potato chips, fried garlic chips, or roasted chickpeas are creative alternatives that will also get the job done. Whether you want to pile these snacks in loose or pour them into tiny bowls or jars first is up to you.
Dips and Spreads
Whether you want a pot of fig jam to pair with cheese and crackers or a bowl of tzatziki for dipping cucumber sticks and pita points in, dips and spreads are the final pieces that pulls a charcuterie board together. Whole grain mustard is versatile and works with everything from sharp cheddar to smoked meats to pumpernickel bread. But most fruit jams are just as flexible and will add a pop of sweetness to soft and hard cheeses alike. Fancier options include pepper jelly (which tastes divine with buttery Havarti or white cheddar), onion jam, and hummus. You can even include Nutella or nut butter if your board is mostly fruit (or better yet, pancakes), or ranch dressing for raw vegetables. Just let your common sense and cravings lead the way."
https://www.yahoo.com/amphtml/lifestyle/put-together-adorable-charcuterie-board-020000227.html