Baked Brie Bites with Cranberry Orange Jelly
PREP TIME: 8 minutes, COOK TIME: 7 minutes, TOTAL TIME: 15 minutes, SERVINGS: 16
RECIPES & IDEAS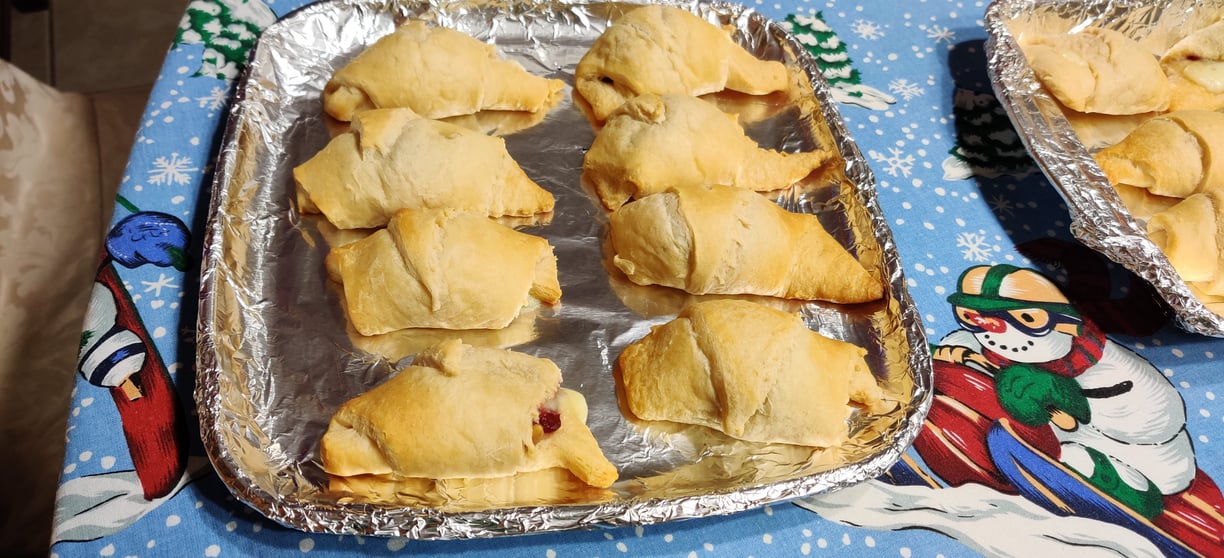 Baked Brie Bites with Cranberry Orange Jelly
PREP TIME: 8 minutes, COOK TIME: 7 minutes, TOTAL TIME: 15 minutes, SERVINGS: 16
Ingredients:
-4 ounces brie cheese
-½ cup Cranberry Orange Jelly
-3 tablespoons pistachio
-Refrigerated crescent dough or 1 box Mini Phyllo Shells
-1 egg
Instructions for the crescent dough:
1. Pre-heat oven to 350 degrees.
2. Cut brie into small cubes (approx. ¼-½ inch cubes).
3. Unroll crescent rolls onto a lined baking sheet lined. Separate into triangles. Cut them in half so you have about 16 triangles.
4. Place 1 brie cube at the long base of the triangle, add a dollop of Cranberry Orange Jelly, sprinkle with pistachios, and roll the dough to make a crescent around the cube.
5. Seal the sides of the dough by pinching the ends together.
6. Using a pastry brush, lightly brush a whisked egg wash over each mini crescent.
7. Cook for approx. 5 - 7 minutes or until golden brown.
8. Remove from oven and serve with a side of Cranberry Orange Jelly for dipping
Instructions for Mini Phyllo Shells:
1. Preheat the oven to 400 degrees F. Place the Mini Phyllo Shells on a baking sheet.
2. Cut the brie into small ½ teaspoon-sized chunks and place one in each mini phyllo shell.
3. Bake for 5 minutes, until the brie is melted.
4. Remove from the oven and dollop a scant spoonful of Cranberry Orange Jelly on each little brie tart. Sprinkle with pistachios and serve warm.